Photos from our 2023 graduation service are here. Please visit
https://galleries.photoday.io/
and enter access code 15601GY23 to view pictures. You may also text 15601GY23 to 90738 to access the photos. This same information has also been sent the Class of 2023 student email accounts.
Important information about senior pictures....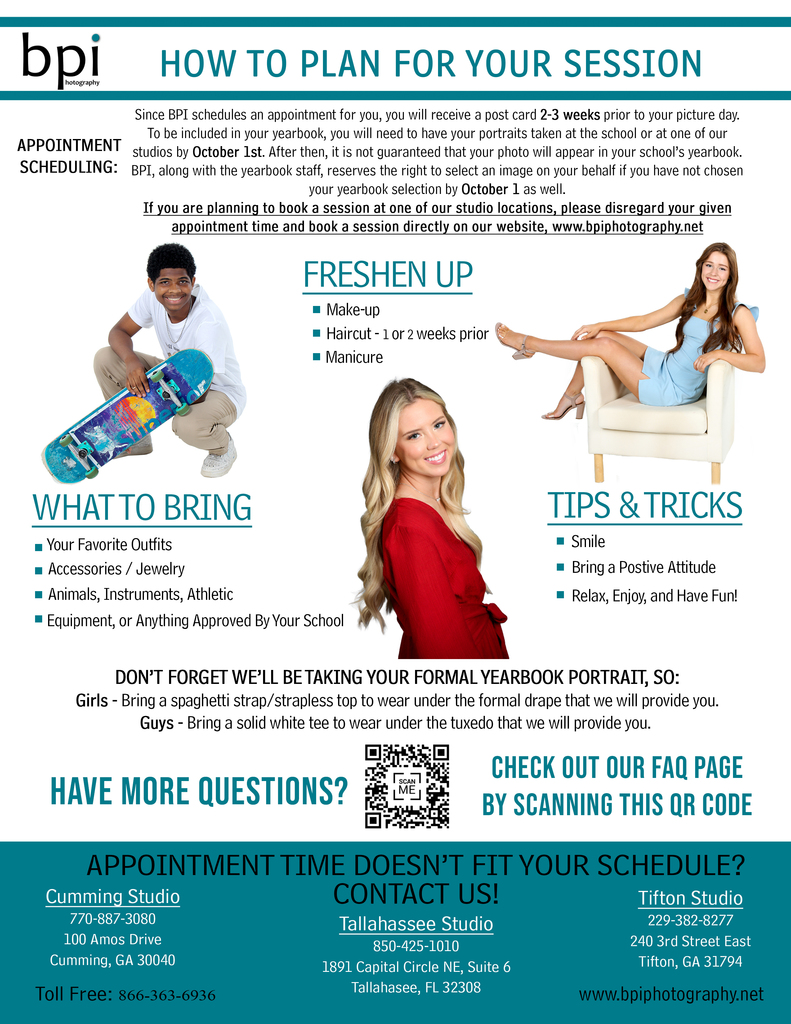 After careful consideration and thorough evaluation, the Taylor County SAGA yearbook staff has decided to partner with a new yearbook and picture company. This decision was made to enhance the overall quality, creativity, and efficiency of our yearbook production process. We are excited about this transition and the opportunities it presents for creating a truly remarkable yearbook. Thank you for your support and understanding throughout this process. Let's make this year's yearbook a treasure of memories that will forever remind us of the incredible times we've shared. Please follow us on our Yearbook Instagram page to stay up to date on all the happenings throughout the school year.
Attention Work-Based Learning Students (WBL)... Please check your email and fill out the required forms. Mrs. Hudson must have the completed forms in order for you to be scheduled in WBL. Please drop your completed forms in the big blue bin outside the front high school doors.
We are excited to welcome friends and family to graduation this Saturday on our football field. While we know everyone is excited for this important milestone, we also ask that everyone be respectful of others. Please refrain from calling out or yelling to graduates. Every family deserves to hear their child's name called and fully experience this important moment. No balloons, noise makers, or signs will be permitted at graduation. Again, this is to ensure that all families will be able to see and hear their child's graduation. Thank you all ahead of time for making this a special event for our community.
Final week of school!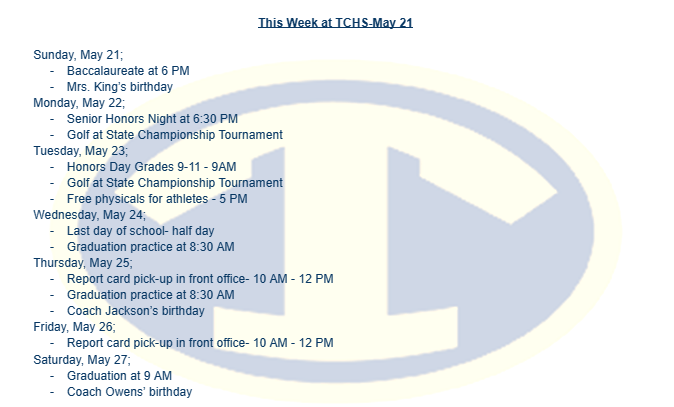 Taylor County High School is proud to announce Mr. Parker Ray Hartley as our 2023 Valedictorian. Parker is the son of Kristi Hartley and the late Ken Hartley of Butler. He is the grandson of Gerald and Linda Parker and Glenda Hartley and the late Ray Hartley. He has an older sister, Emily. He plans to attend Mercer University in Macon in the fall to pursue a degree in Information Technology. Our 2023 Salutatorian is Miss Caroline Carlene Albritton. Caroline is the daughter of Shane and Holly Albritton. Caroline will attend Middle Georgia State University in the fall where she will play softball. She plans to major in Rehabilitation Science and pursue a career in Physical Therapy. Congratulations to these two outstanding Vikings!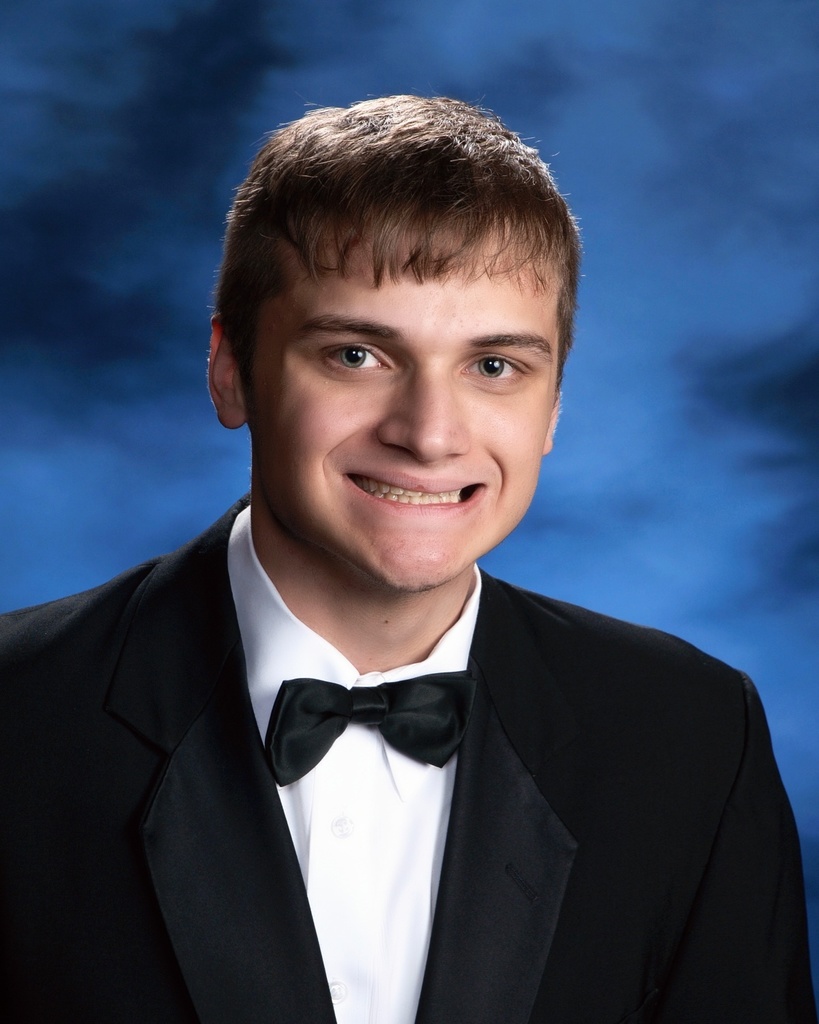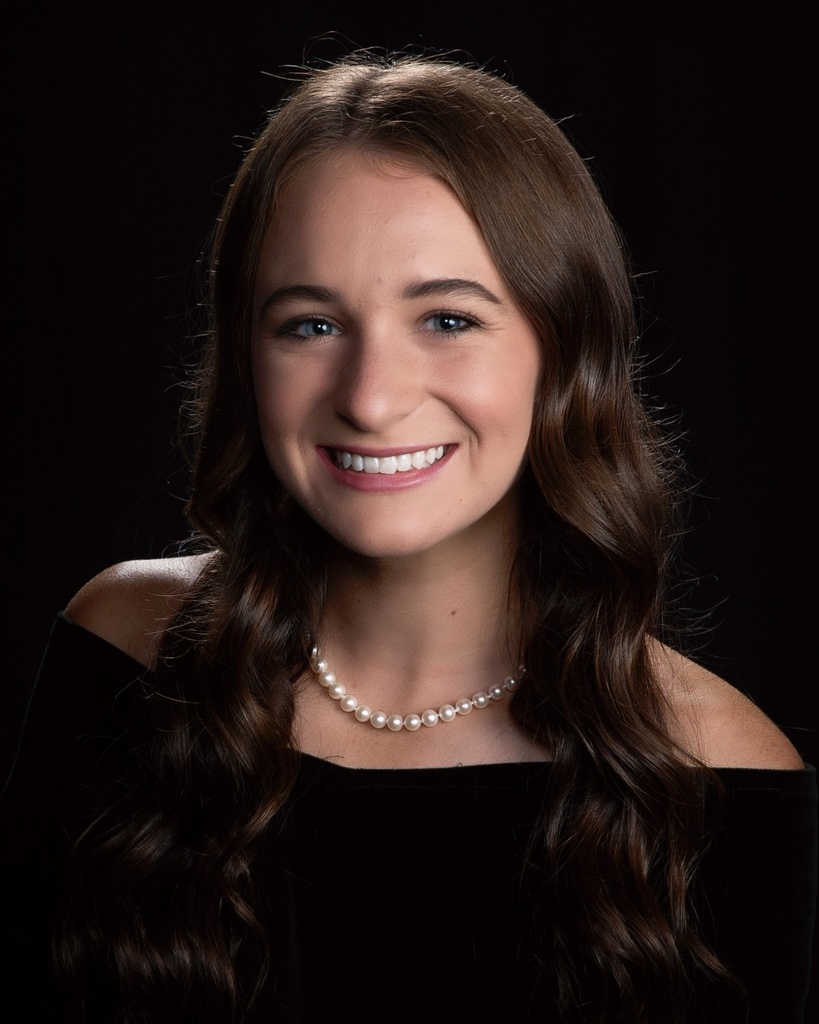 Football will travel to Wilkinson Co this Friday for a spring scrimmage game.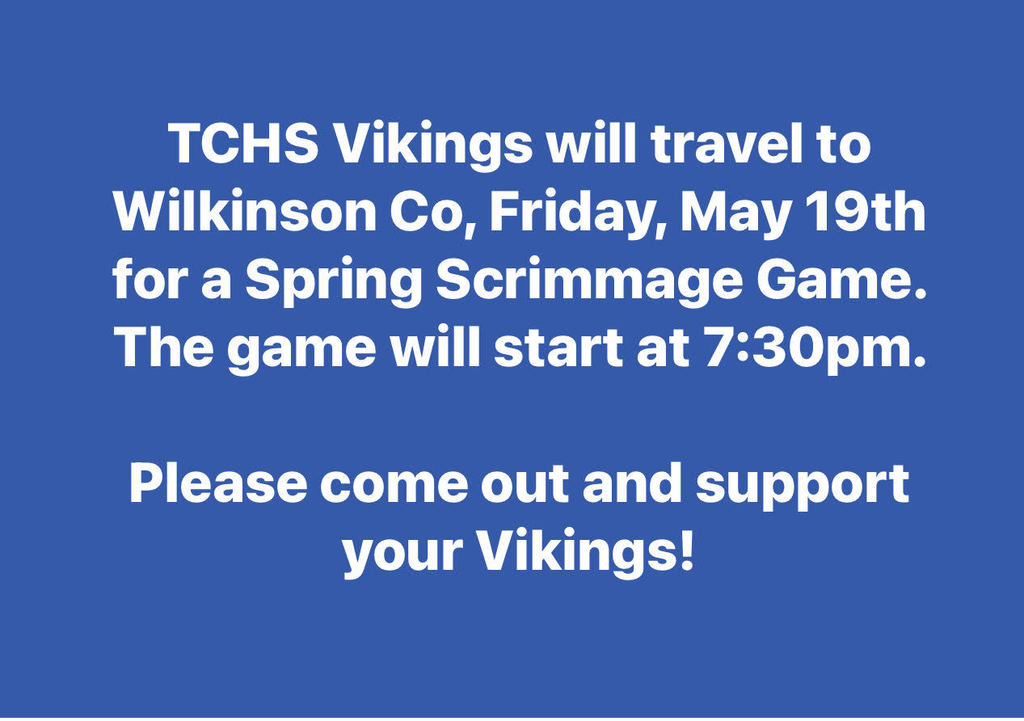 Free physical day has been moved to Wednesday, May 24th at 5:00 PM. Parent portions of the forms must be filled out by this Friday, May 19 prior to the physical. Forms are available with head coaches and in the front office.
A Message from the SAGA Yearbook Staff Our SAGA staff recently received and passed out yearbooks; during this process, we realized that our yearbook order was missing several purchased yearbooks. To remedy the situation, we will be creating another yearbook order. If you ordered and paid for a yearbook, yet did not receive one, please go to the front office and ask for your name to be put on the yearbook order list. If you did not order a yearbook but now would like to, please go to the front office and pay $65. You will need to keep your receipt copy. Our company tells us that it will take about 7 weeks to reprint these yearbooks, so you should receive them sometime in August. As always, we thank you for your continued support of the SAGA Yearbook and appreciate your patience and understanding as we work through this issue. If you have any questions, please feel free to reach out to the yearbook advisor, Mrs. Chansie Hudson.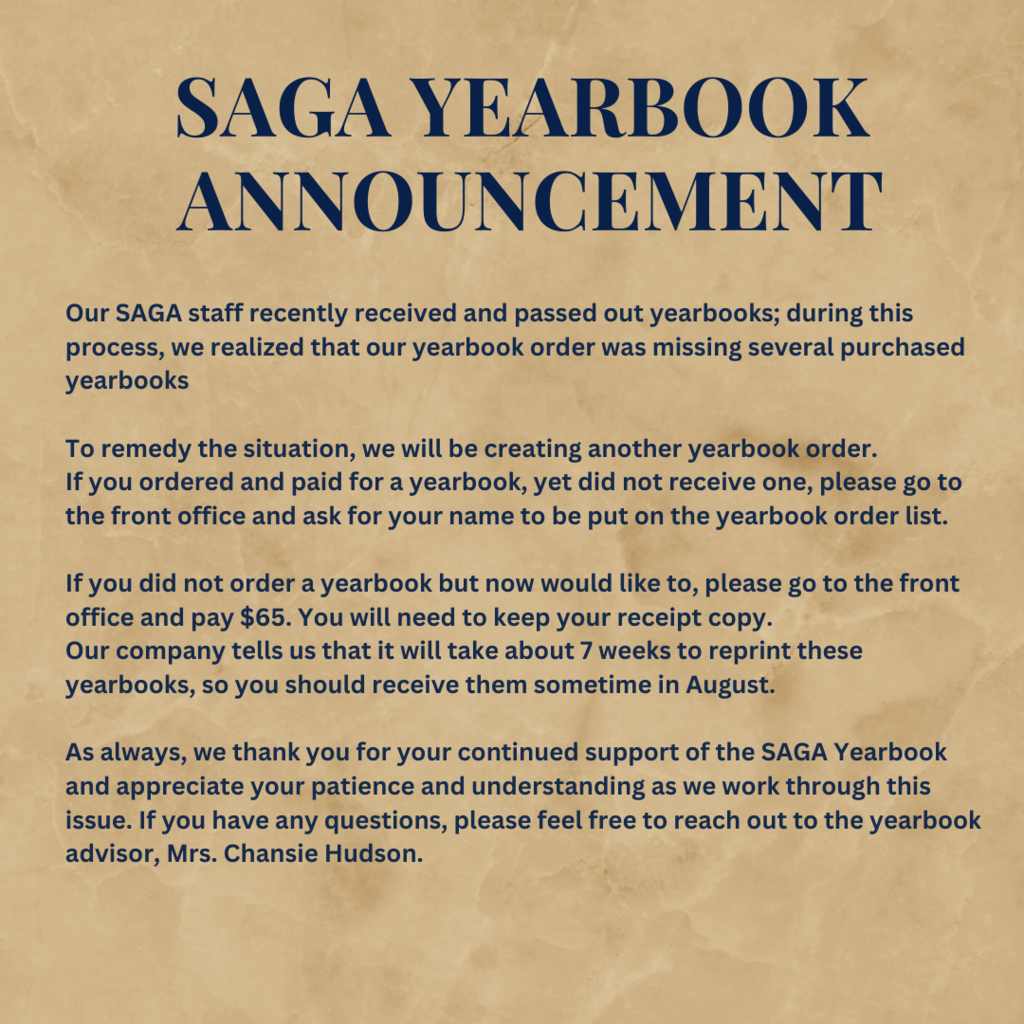 Congratulations to several members of our Boys Tennis Team for earning All-State team recognition. Shervyn Praveen has been named to the 2nd All-State Team for 1st Singles Aiden Coker and Logan Hobbs have been named as Honorable Mention for the All-State Team.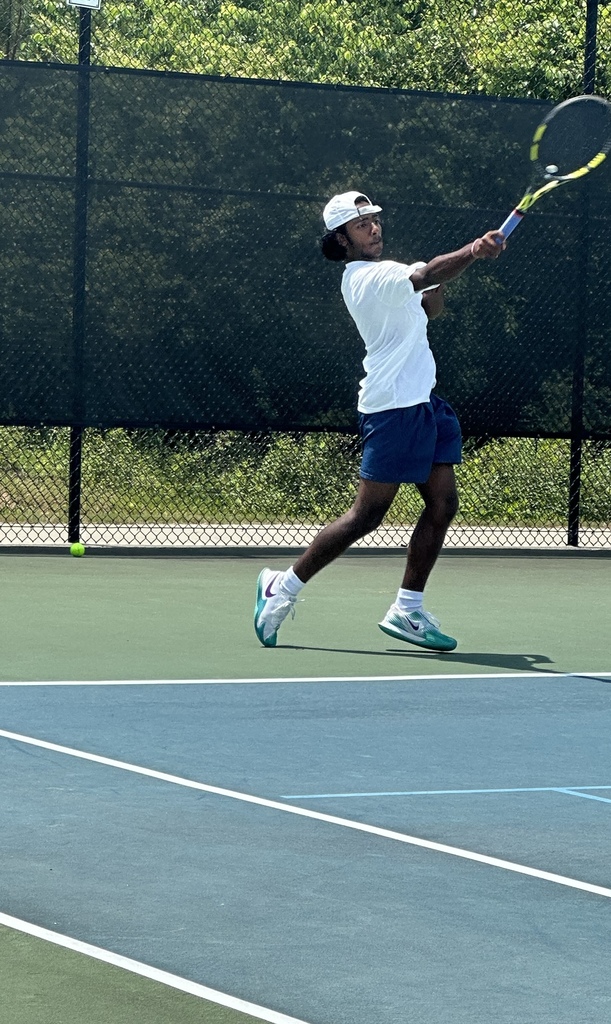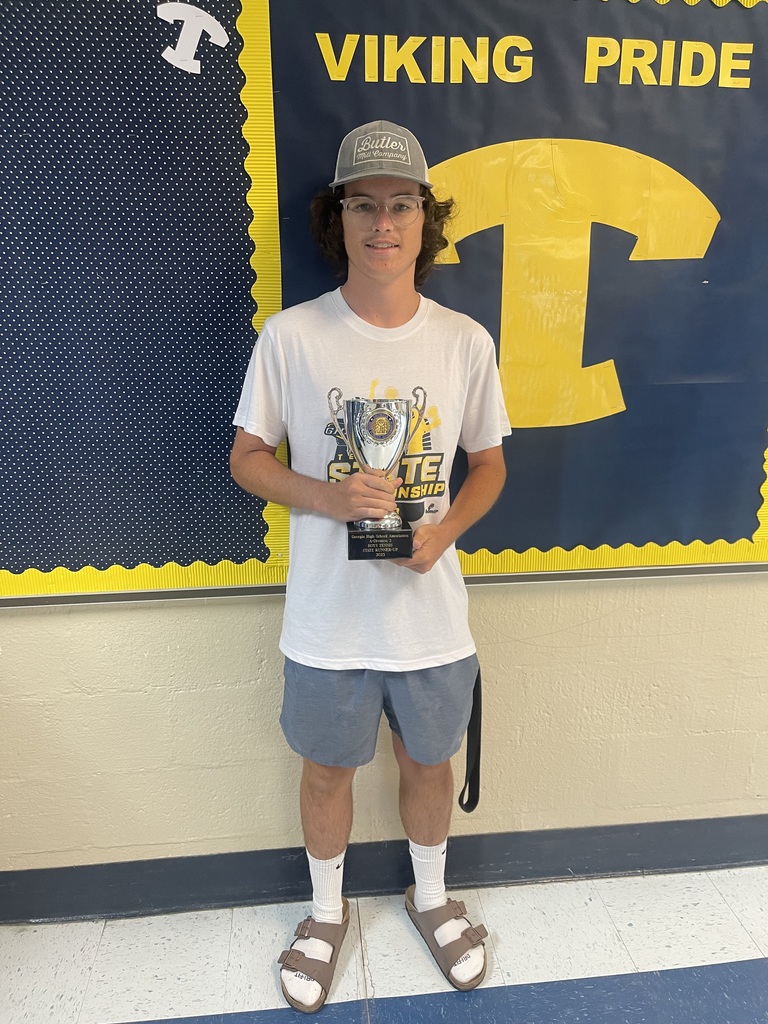 We're in the home stretch, so things are getting very busy! We went ahead and included next Sunday's Baccalaureate on this post just as a reminder.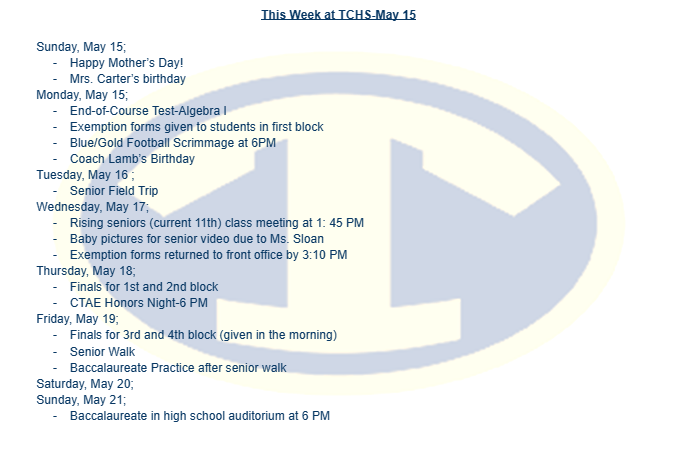 Today's the day.... Boys tennis is in Rome,Georgia competing for the State Championship. Go Vikings!!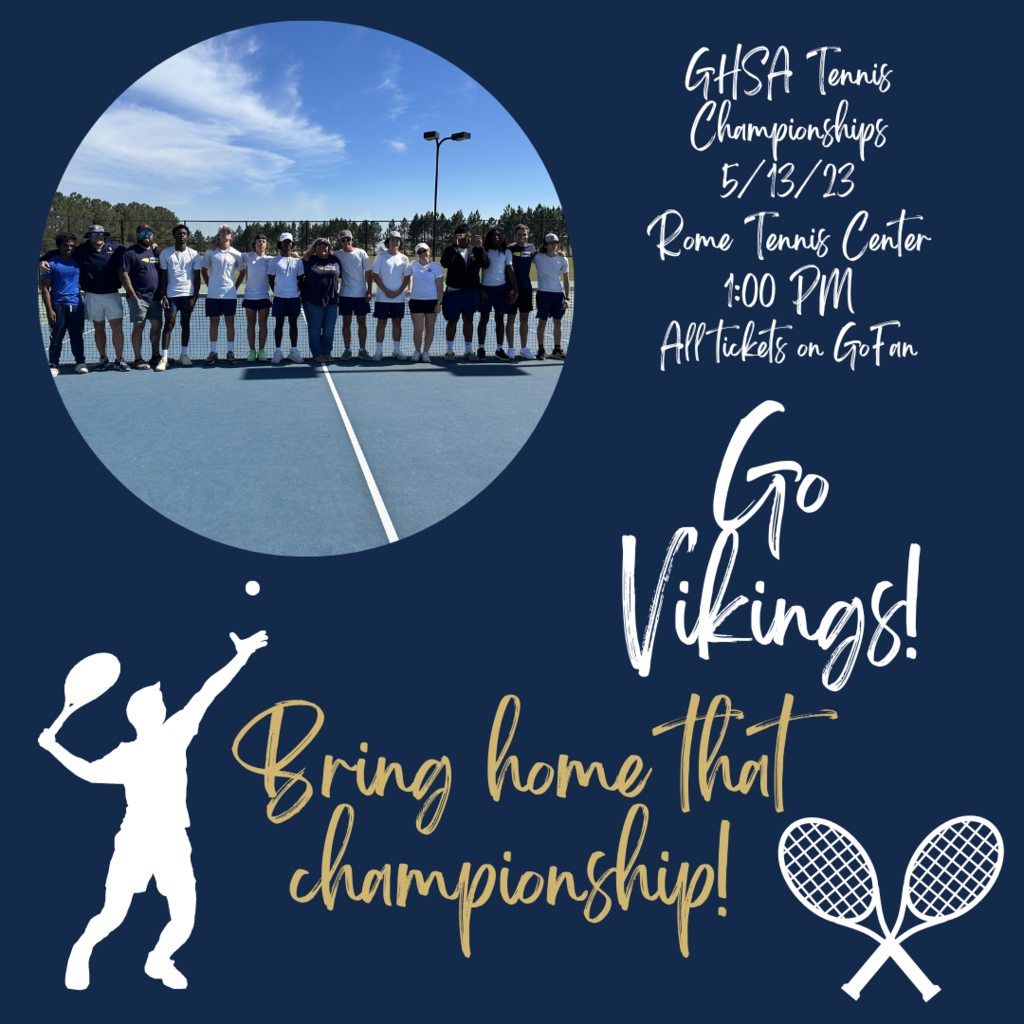 Blue/Gold scrimmage rescheduled!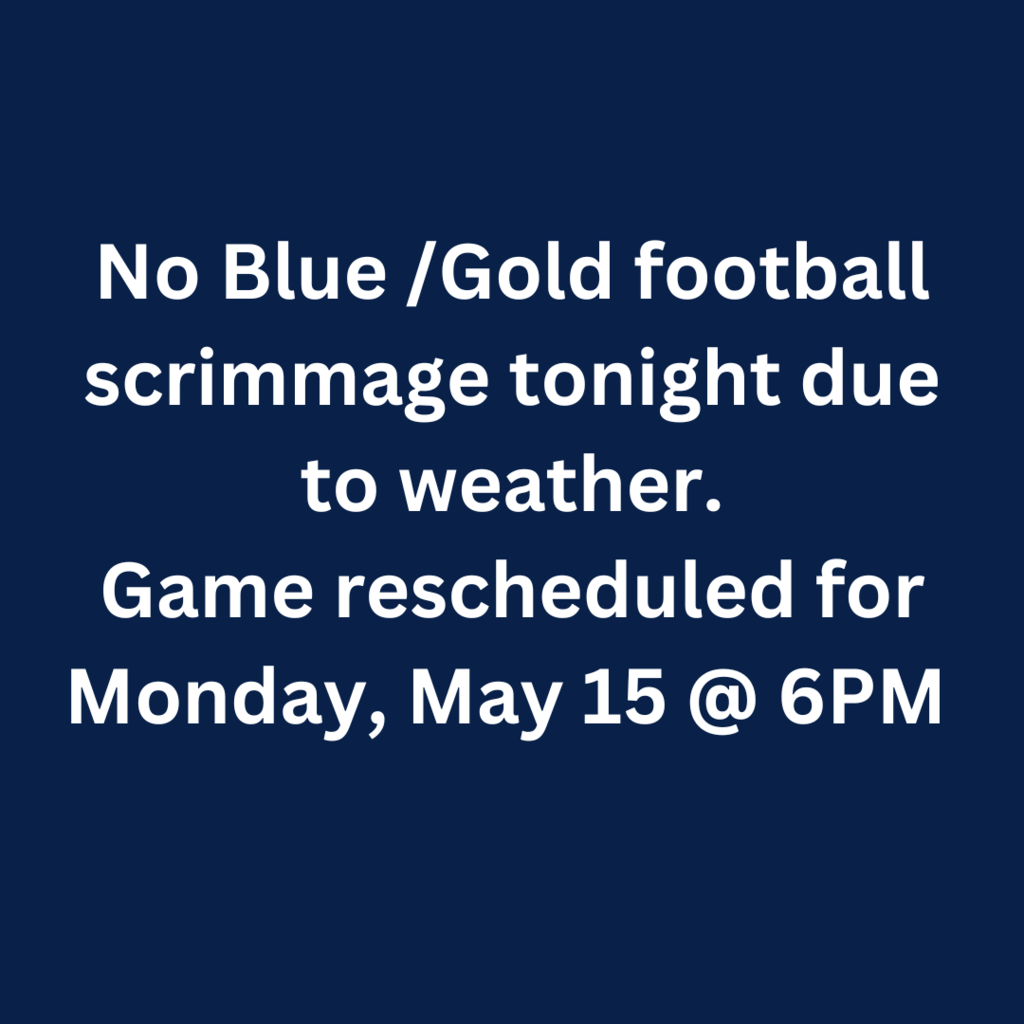 Vikings Track and Field continues to impress at the State Championships... Yesterday, Davia Colbert competed in long jump, and Alasia Montgomery was 4th in state in the high jump. Girls 4x 200 also advanced to the State Finals on Saturday. Events are continuing today, so we expect even more good news to come.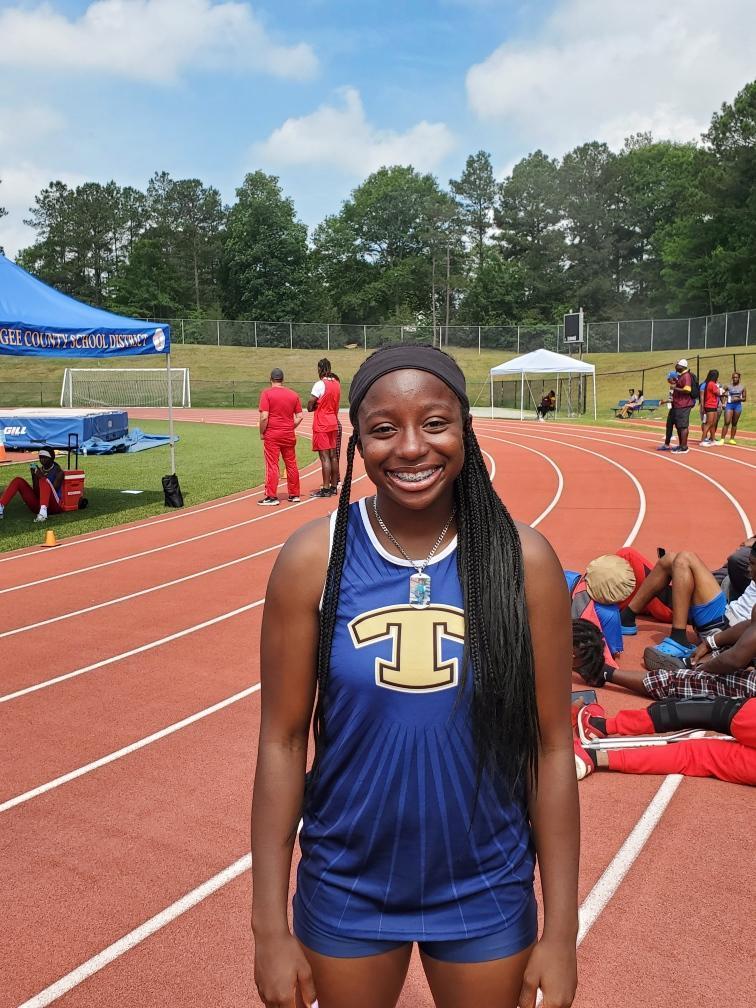 TCHS Visual Arts students presented some amazing pieces last night at the exhibition. Great job Mr. Gordon and students!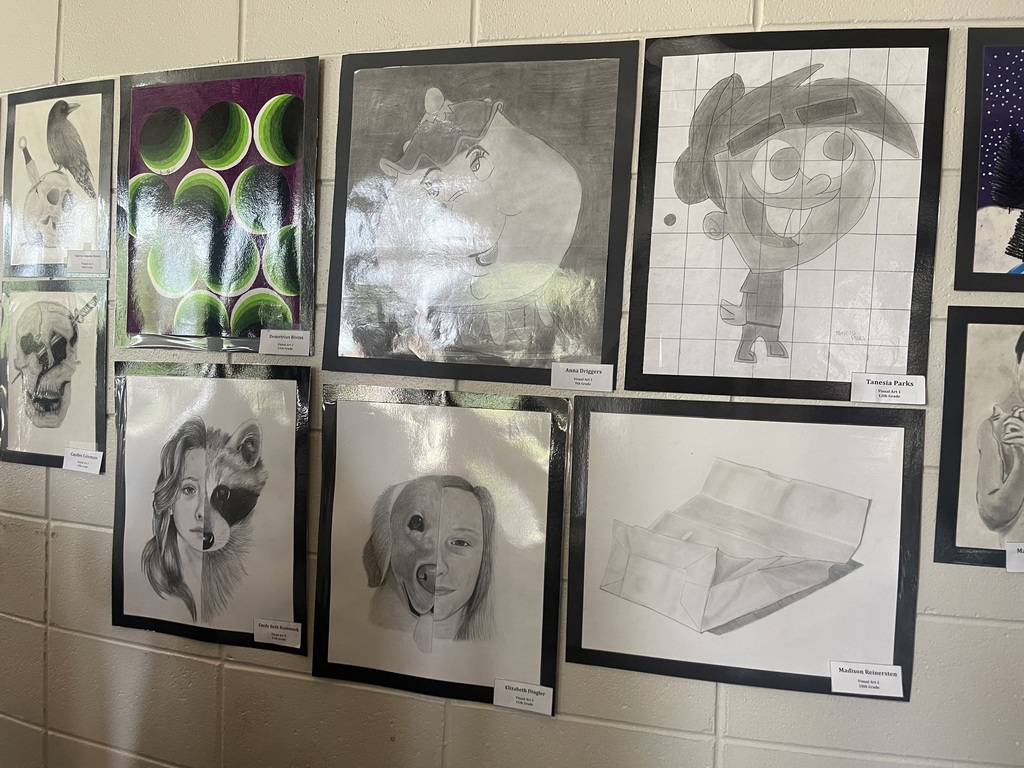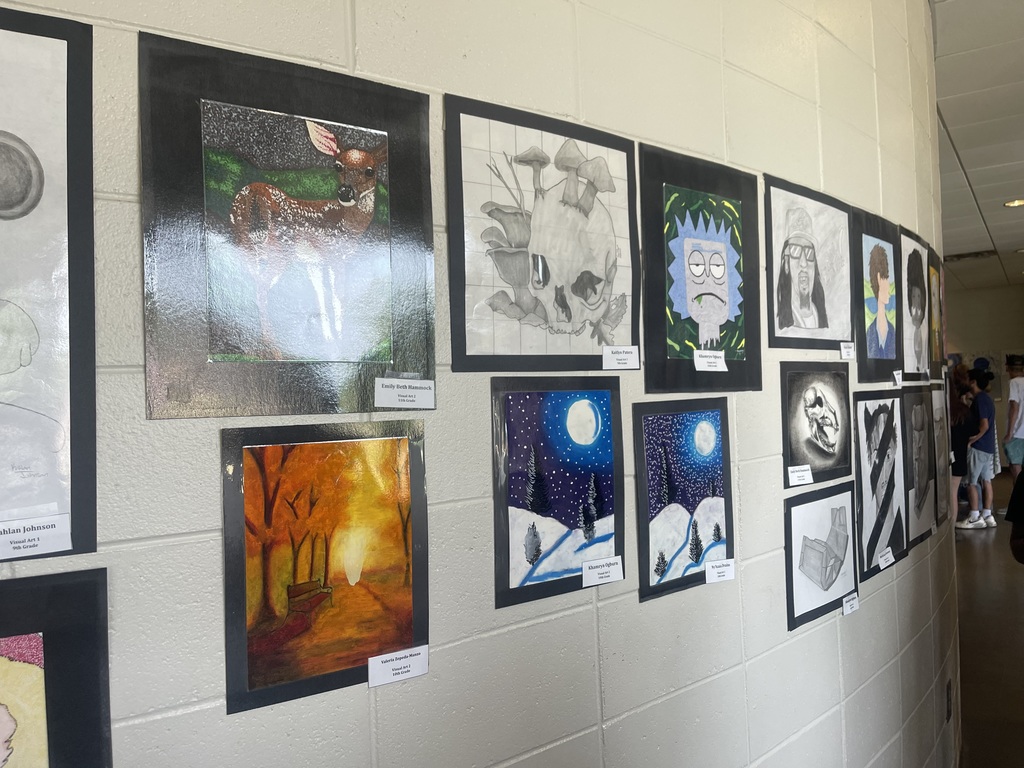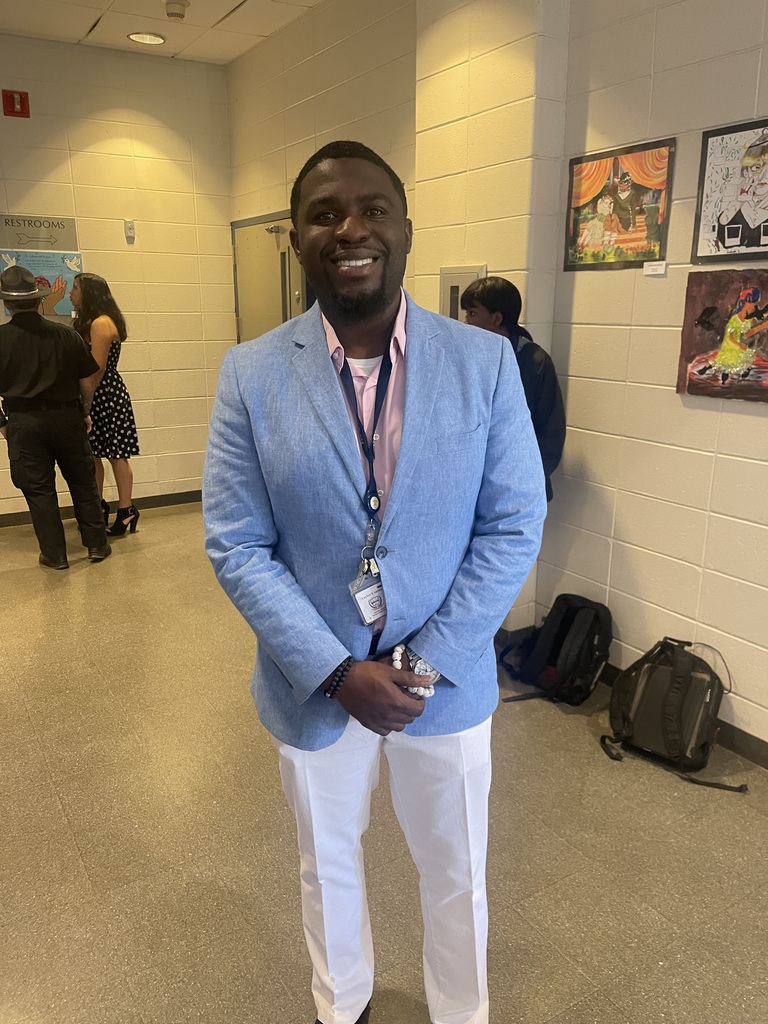 Today, senior Jaliyah Zackery signed to continue her basketball career with Southwest Tennessee Community College. We are so proud of Jaliyah! Over her 4 years as a Lady Vikings starter, Jaliyah accumulated 907 rebounds and 1571 points! Her hard work, heart, and dedication make her a Lady Viking to remember for years to come!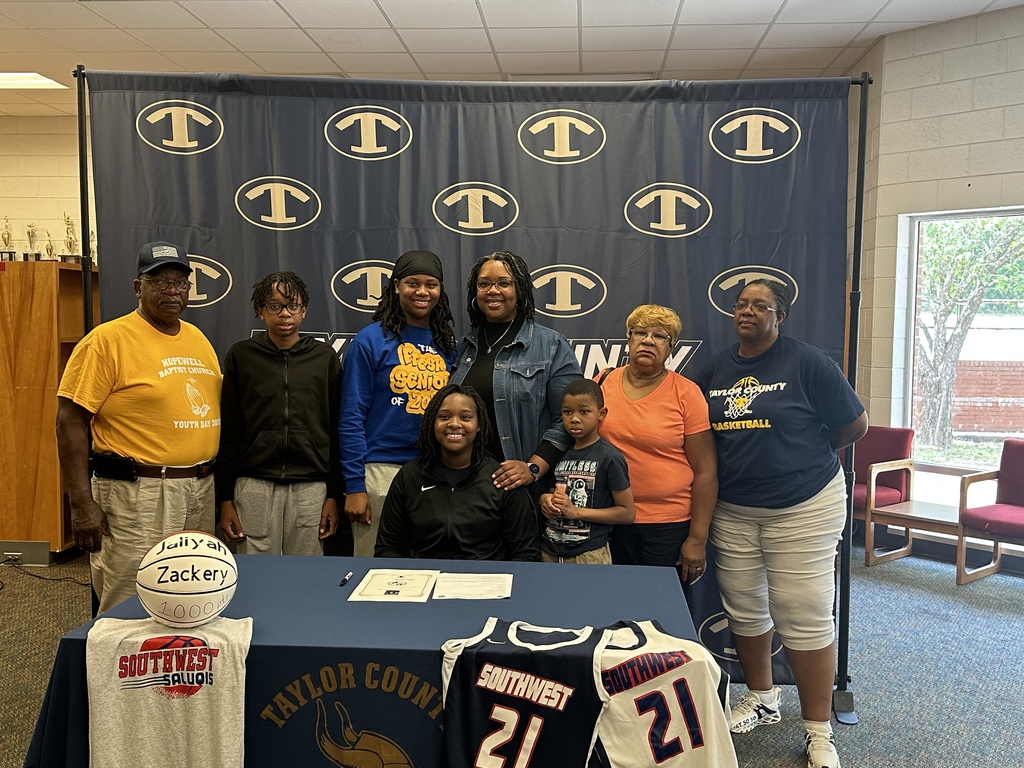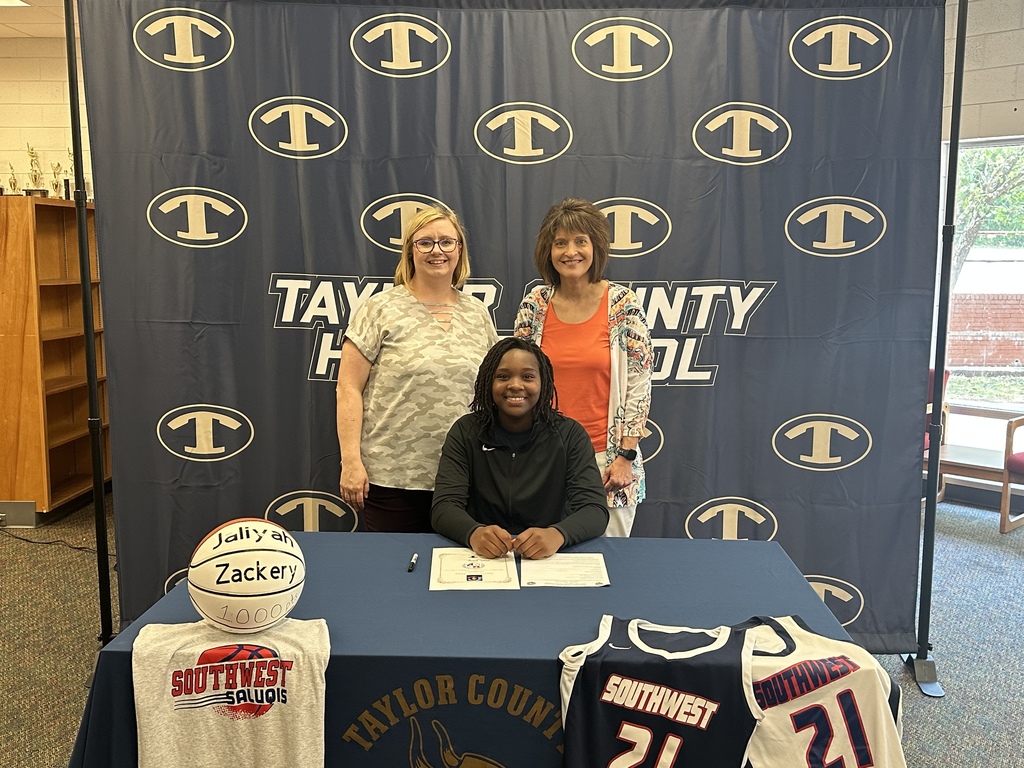 Make plans to attend CTAE Honors Night!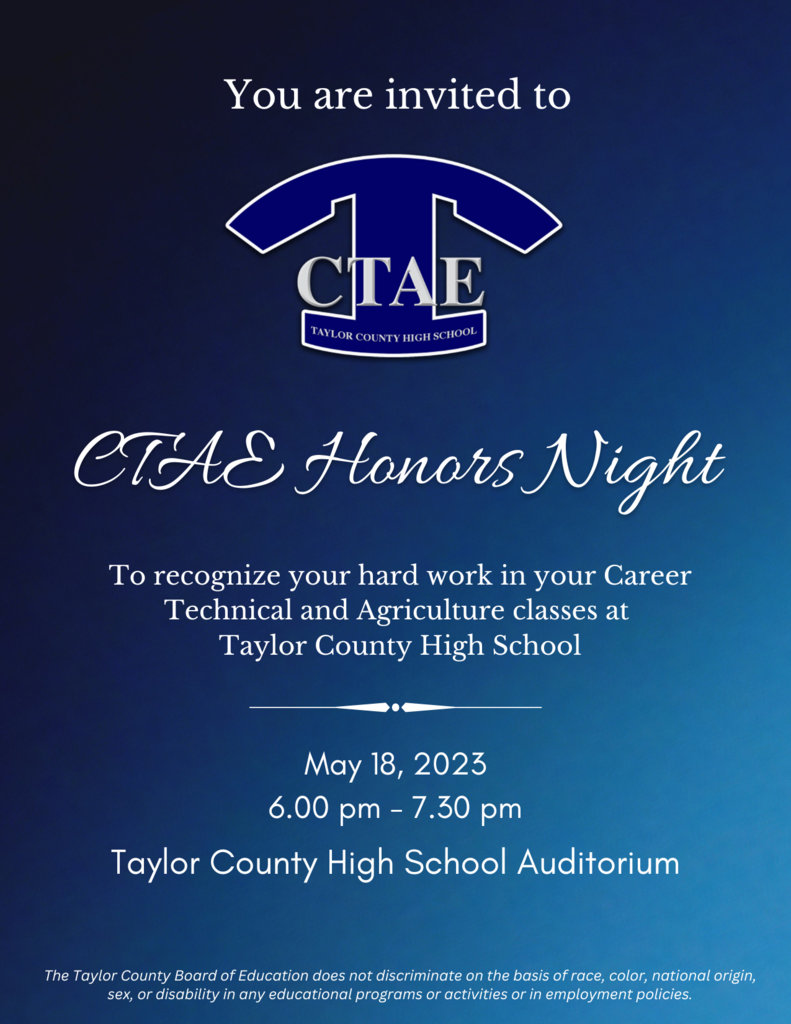 Join us this Thursday, May 11 at 5:00 PM for our Art Exhibition in the TCHS Auditorium Lobby.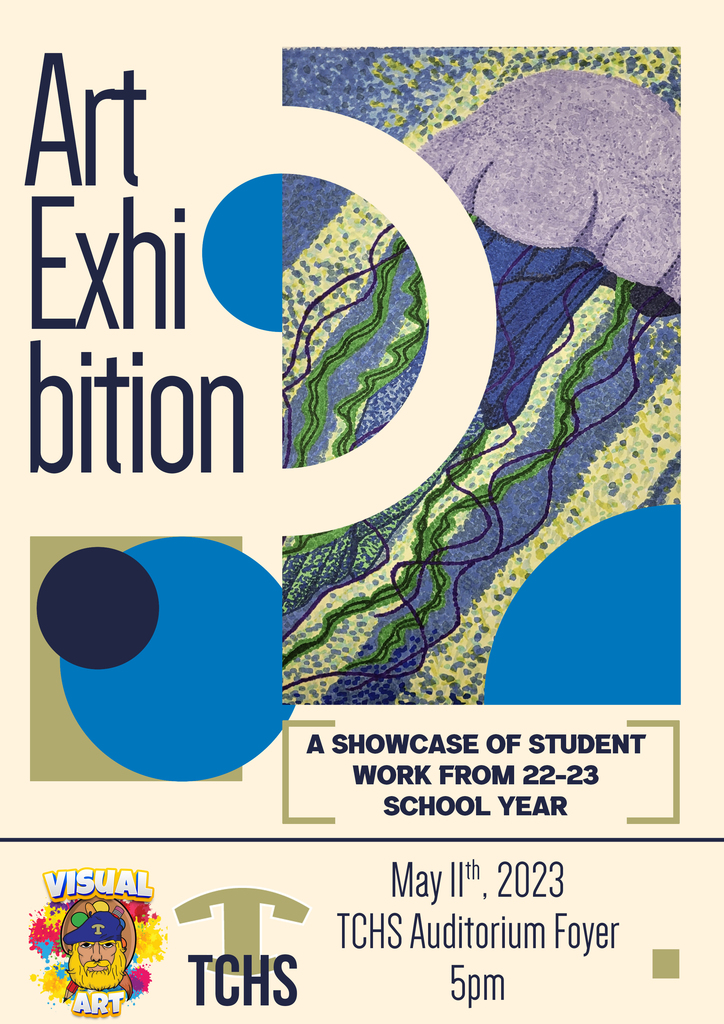 Big week at TCHS! End-of-course testing starts tomorrow; please be well-rested and charge those Chromebooks. Also, join us as we celebrate our teachers all week for Teacher Appreciation Week!